History & Experience
"When I first became a realtor in the Edmonton area in 2007, I wanted to be something different in the real estate world. I wanted to establish relationships with my clients and impact the community in a positive way. I didn't want to be known as a salesperson but rather a Real Estate Professional. To do these, I purposed to earn more certifications and have a clear knowledge about the communities I was working with. As the years went by and my business grew considerably, I formed The Nooran Realty Group to support my clients better as they have supported me by appreciating the knowledge and experience I had to offer. Our goal is to provide our clients with the support they need to make logical, informed and confident decisions whether they are selling their home or buying the home of their dreams.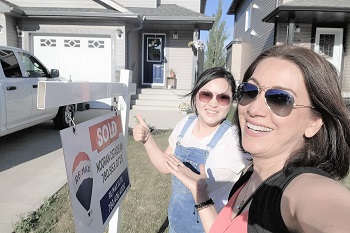 Interested in housing and construction from a young age, Nooran progressed from working for to eventually running the family business, which indirectly connected her to the real estate industry on the manufacturing side. To further her career and pursue schooling, she made a brave decision to relocate from Iran to Germany. During the course of her studies in business, she accepted an opportunity to become involved in commercial real estate. Her thorough understanding of building construction proved to be an asset to the project teams of purchasers, and dealing with large multi-national companies provided great insight into business development and tremendous exposure to negotiation and sales techniques. Following completion of a business management degree, she moved to Canada and settled in Edmonton to pursue her desire to begin a company of her

own.

Committed to continuous education and certifications, as well as knowledge about the communities she works in, she commits to a service of honesty, integrity, and trust in every customer transaction. The Nooran Realty group was established in 2007 with the goal of providing clients with all the support they need to make logical, informed, and confident decisions in selling and buying.